Oh dear – you set out on your next great adventure and then disaster strikes. Check out these camping epic fails and then learn how to avoid them.
1. Check you have ALL your gear before you set off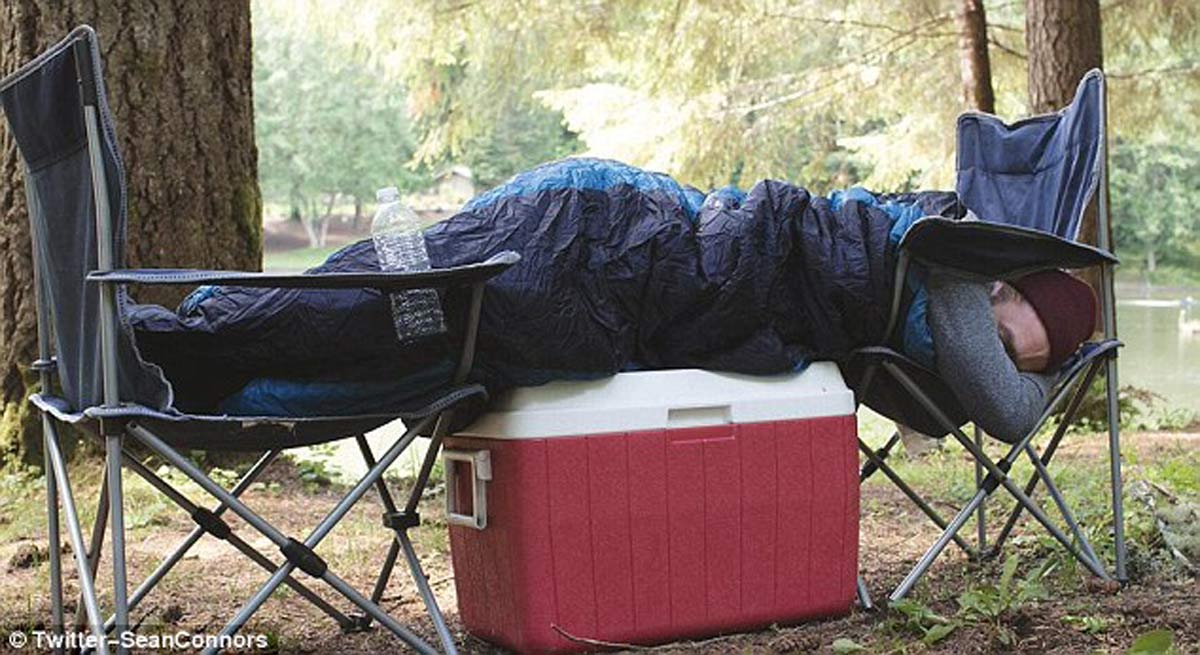 Forgetting essential kit is never fun. Assemble all your camping equipment together before you pack the car, write a checklist and tick it off as you pack and if there's more than one person packing, remember that two or more sets of eyes are better than one.
2. Check that you've got all the components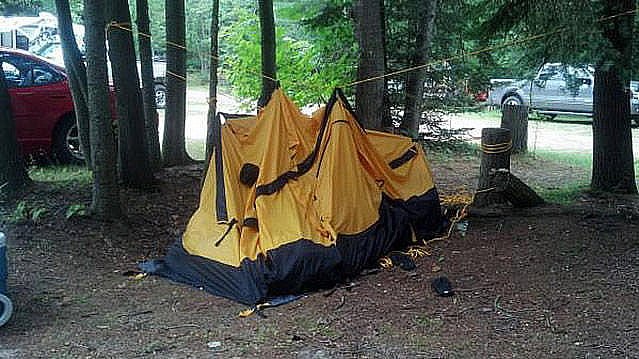 You've checked that you've got all your gear, but did you check that your equipment such as tents had all the components in the bag? Forgetting your tent poles is pretty much as bad as forgetting the tent altogether!
3. Practice makes perfect
Make sure you know how to put your tent and other equipment together – read any instructions, familiarise yourself with all the parts and practice, practice, practice putting things together and taking them down. The camp site is not the ideal place to open your new tent for the first time!
4. Check that your gear fits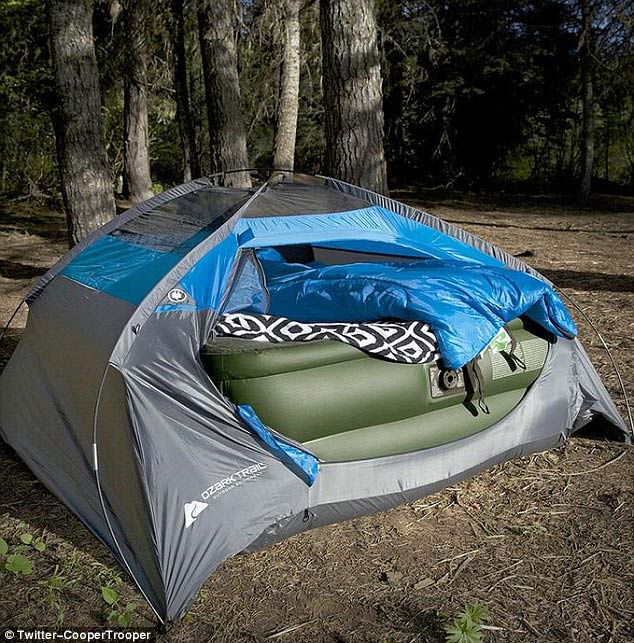 That super deluxe air mattress looked great and felt really comfy in the shop – did you stop to check whether it fitted the dimensions of your tent? It's not so comfy now…..
Take time to check whether any new piece of equipment will actually work well with your other kit in order to actually do the job intended.
5. Tent pegs are included for a reason!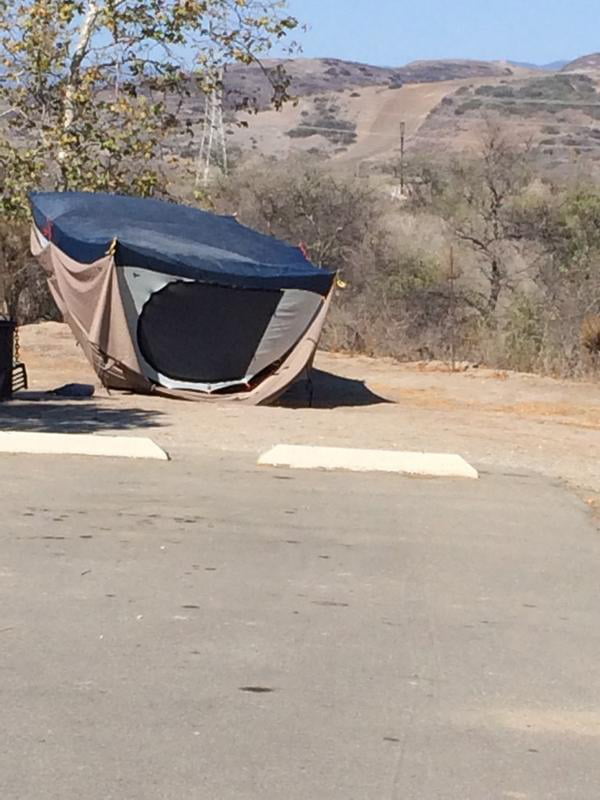 Your dome tent stands up by itself; surely you don't need to use all those pegs and ropes, right? Wrong. Don't cut corners, your 'holiday home' shares a lot of properties with a kite! Peg it down and use the guy ropes provided to help the structure withstand wind. Get a good quality mallet to help drive your pegs in properly.
6. Check the weather and your camp site
Flooding isn't fun (confession time: been there, done that, got the wet camping gear). Check where you are pitching your tent – look for signs of regular water run-off, hollows in the ground, slopes, ditches and dry water courses. Think twice about pitching next to a river if the area is prone to unpredictable weather or flash flooding or if there is bad weather forecast. You should even check your site at a commercial campsite or resort, not all pitches will be 100% flat, perfect, well drained areas.
7. Remember you are outside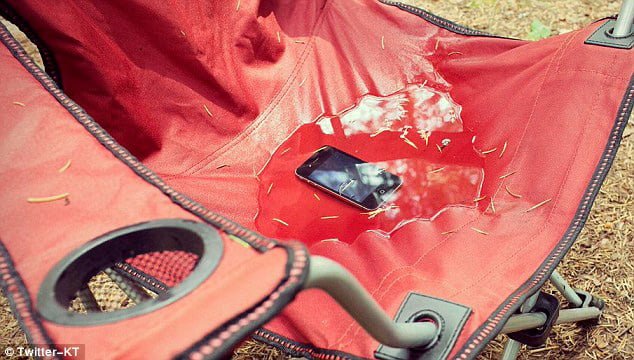 You might leave your phone/tablet/camera/other expensive item on a chair or table at home without thinking about it. You are not at home, you are outside – your stuff is going to be more exposed to weather. Also, if your phone gets a dunking, maybe don't stop to take a photo; dry it off, put it in a bag of uncooked rice and hope for the best.
8. Get the right equipment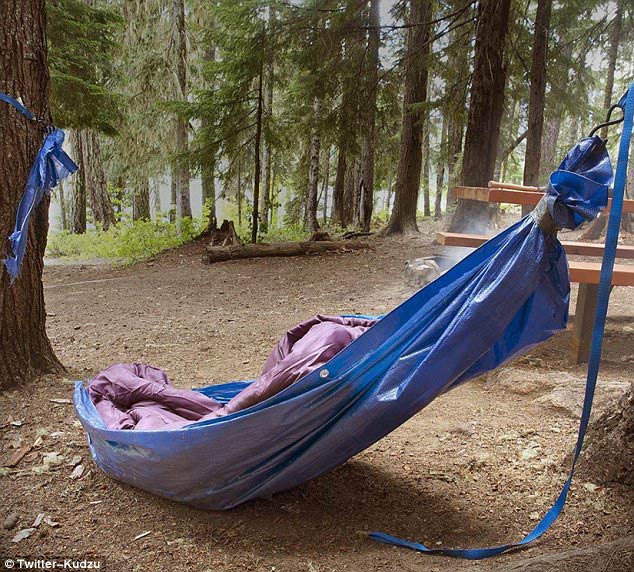 It looks so simple when a TV survivalist improvises their campsite out of nothing but what they have to hand. It's not; don't try it if you really don't have to. Take this failed improvised tarpaulin-and-webbing-strap hammock as your warning – get the right gear for your site!
9. Beware of hot things and your camping gear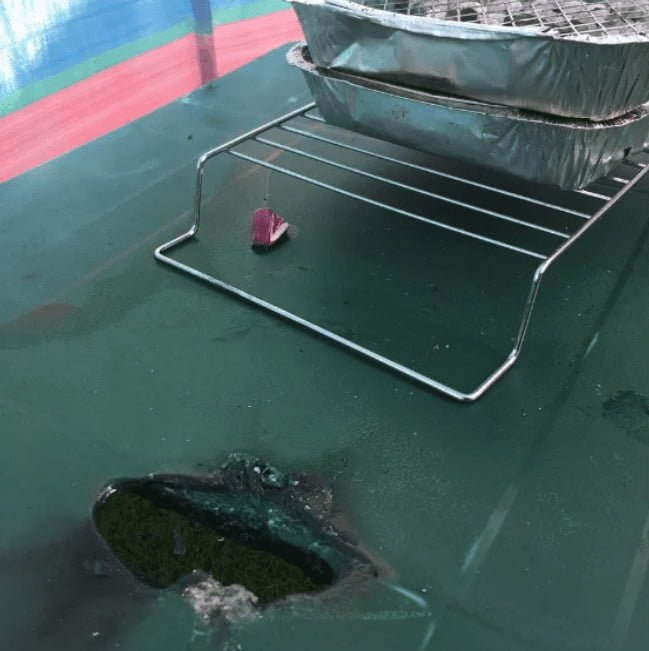 Hot object + plastic table = melting disaster
Whilst you are camping, you are much more likely to be dealing with open flames than you are at home (think braais, gas stoves, camp fires or gas lamps). Your living circumstances whilst camping are also much more likely to be sensitive to heat and flames than at home too – it's easier to melt a plastic table than a kitchen counter and a tent is much more flammable than your house. Keep this in mind and think 'safety first' when camping. Don't put hot pots, pans or (obviously) compact braais on plastic or board topped tables, don't light fires too close to tents, remember wind direction for sparks and take extra care if you're using gas lamps. Make space in your packing for a fire extinguisher and/or fire blanket.
10. Take care of the toilet roll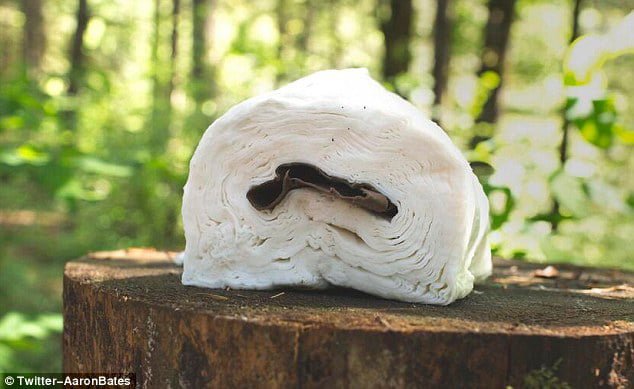 Last but not least, toilet roll – the camper's 'white gold'. Take care of it, store it in the dry and don't drop it. Toilet roll is a precious commodity, especially when you're enjoying time off in the middle of nowhere. Soggy loo roll can really ruin your day!
Follow us on Facebook