Mix it up whilst you're at the campsite with these easy and tasty camping breakfast ideas.
Breakfast at the campsite usually comes down to bacon, eggs and sausage or wors. Whilst this is undoubtedly delicious and tastes even better when cooked outdoors than at home, sometimes you could do with a change. Check out these tasty camping breakfast ideas for some ideas to add variety to your breakfast table.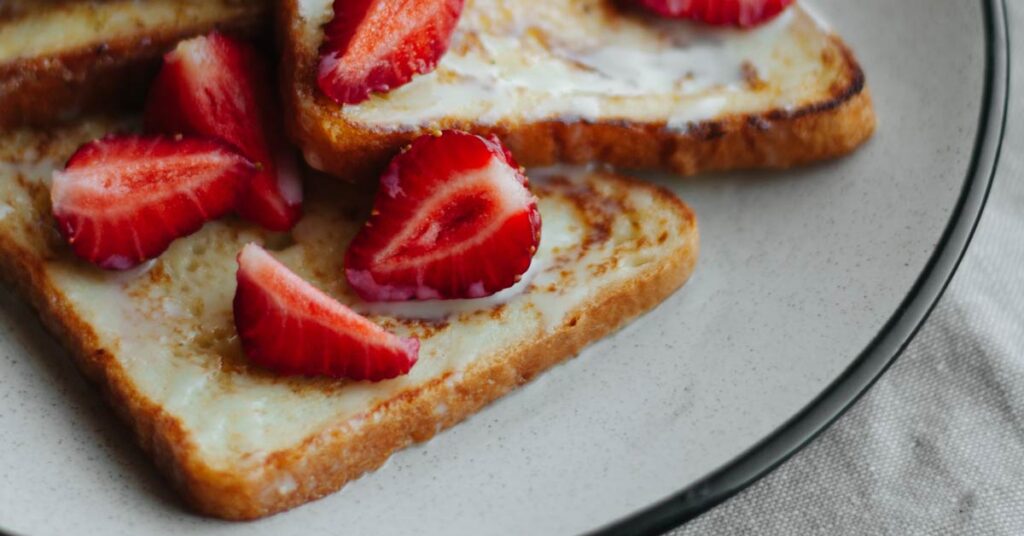 French Toast
The best camping breakfast ideas are simple and tasty. French toast is easy, delicious and a great way to use up that loaf that's going a little stale. Serve simply drizzled with some honey or syrup, top with bacon or serve topped with berries or fruit of your choice (because fruit makes things healthy, right?)
Makes 6 slices
2 eggs
½ cup (125 ml) milk
½ tsp (2.5 ml) cinnamon sugar
¼ tsp (1.25 ml) vanilla extract (optional)
6 slices bread
Beat eggs in a shallow bowl. Add milk, cinnamon sugar and vanilla (if using) and beat until frothy
Soak each side of the slices of bread in the egg mixture
Cook in a preheated frying pan or flat griddle plate until golden on each side, you can add a knob of butter to the pan before adding the bread if preferred.
Serve immediately with your choice of topping.
Breakfast in a Jar
If you've been anywhere near the internet, you'll know that food served in a jar is very much a 'thing' now. This breakfast option is more than fashionable, though; it's a very practical way of grabbing breakfast on the go for those early-start mornings. All it takes is a little prep work the day before.
You don't have to use an ultra fashionable and oh-so-instagramable mason jar if you don't want to – this should work in any tall, wide necked portion sized container that you can put a lid on.
For each portion, mix together 1/3 cup oats with 150g thick youghurt in a flavour of your choice (you can add a splash of milk if the mixture seems a little thick).
Put half the youghurt oat mixture in the jar and then add a layer of chopped fruit of your choice, if you have a camp freezer you can use frozen fruit too. Layer in the second half of the yoghurt oat mixture and top with more fruit.
Put the lid on your container and chill overnight (these pots will keep for up to 3 days in a fridge). All you need to do when it's time to eat is open the lid and grab a spoon – easy when you're busy and it's a healthy option too.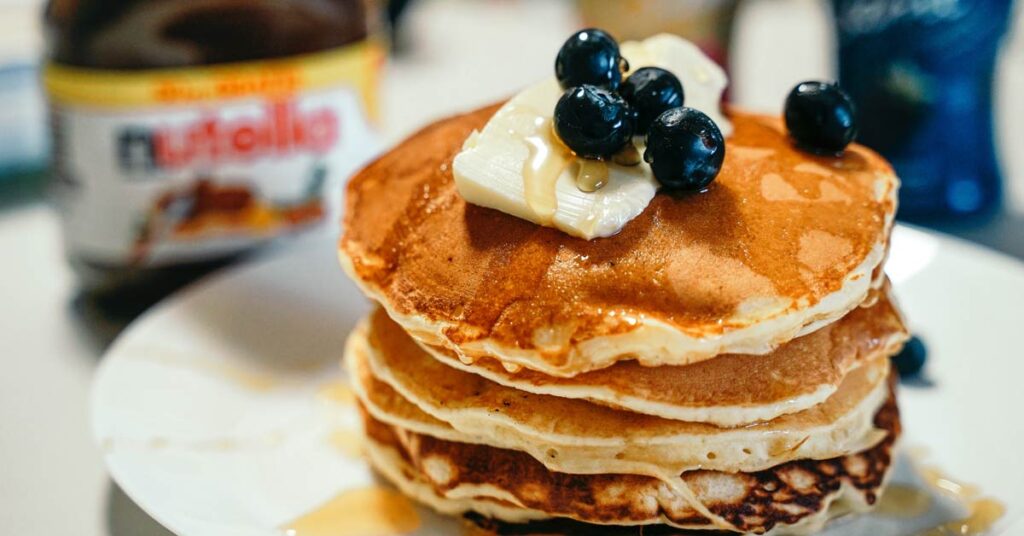 Pancakes
Pancakes, flapjacks, griddle cakes, call them what you like, but they make a quick and delicious breakfast option. Like french toast, these thick, fluffy American-style pancakes are flexible too – top them with whatever you want. These pancakes are super easy to prepare whilst at the campsite as all the fiddly weighing and measuring is done at home before you go and you don't need loads of fresh milk on hand either!
Pancake dry mix
Mix together in a bowl:
1 cup (250 ml) cake flour
¼ cup (60 ml) sugar
¼ cup (60 ml) dry milk powder
4 tsp (20 ml) baking powder
¼ tsp (1.25 ml) salt
Pour into a zip lock bag or plastic container and pack with your other camping provisions.
When you want to make your pancakes simply beat together 1 egg and ¾ cup of water and mix in the dry mix, you may need to add up to ¼ cup of extra water to get the right consistency. Cook in a frying pan lightly greased with oil or butter, pancakes are ready to turn over when the underside is golden and there are small bubbles forming on the top.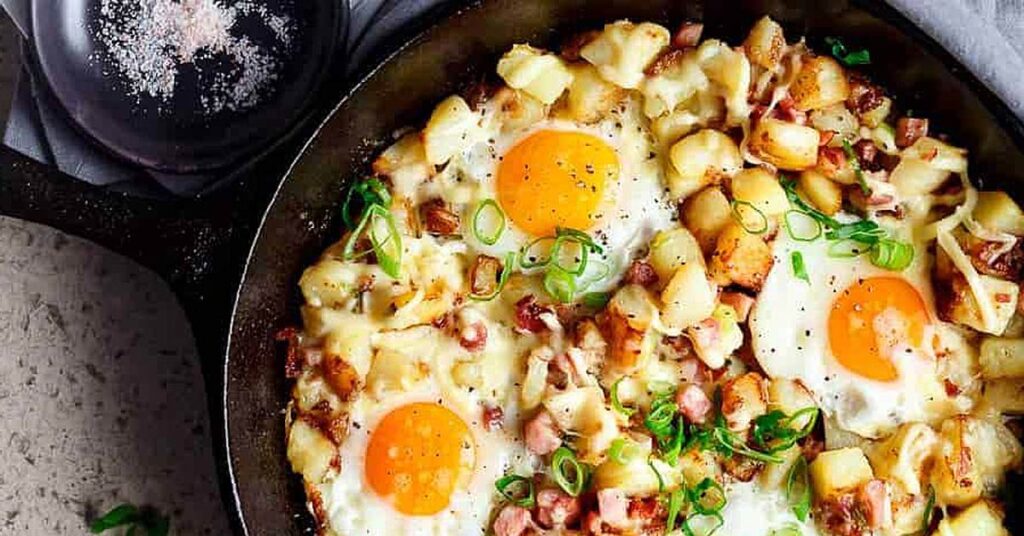 One Pan Breakfast Hash
You might want a change from the standard eggs and bacon breakfast, but you don't have to give up on the comforting sound and smell of breakfast in a frying pan. This one-pan-wonder breakfast will give you something a little different whilst satisfying the frying pan craving. This recipe doesn't have to be confined to breakfast; it makes a great simple supper dish too.
Serves 4
4 medium potatoes peeled and diced into 1.5cm cubes
2 tbsp (30 ml) oil
200g diced bacon
2 spring onions, sliced
4 eggs
Generous handful of grated cheese – cheddar, gouda or mozzarella work well
Heat the oil in a frying pan (cast iron works best here) over a medium heat and fry the diced potatoes. Stir occasionally and cook until golden and crispy. If possible cover the pan with a lid between stirrings to speed up cooking.
Add the diced bacon and fry, stirring occasionally until crisp.
Stir through the spring onions and season with pepper (you can add salt too, but remember that the bacon is already quite salty in flavour)
Make four holes in the potato mixture and crack an egg into each well. Scatter the grated cheese around the eggs, over the potato mix. Cook until the eggs are cooked to your liking and serve immediately, because you'll be starving by then!
Coffee and Rusks
Coffee and rusks are a South African classic that shouldn't be overlooked – it is truly the simplest of camping breakfast ideas. This is often the staple of breakfast on the road as a flask of coffee and a box of rusks are easy to pack and eat. Don't overlook this as an option for a lazy morning on the campsite though.
Pack a selection of your favourite rusk flavours in an air tight container to take with you to the campsite and make a great tasting cup of fresh coffee. If you want a really great cup of coffee, brew ground coffee in a camping percolator and maybe add condensed milk for the true camp experience. Then sit back, relax and enjoy the morning.
© CAMPCRAFT